Apple decorations for the kitchen. There is an abundance of home renovations that you can take up, but if we were to give one particular area a high priority, it would be your kitchen.
Re-decorating and re-designing sections of your home do wonders for the feel and ambiance of your home – especially in kitchens.
Don't be swayed by temptations to restore one room over another; kitchens are almost always used more than any other room.
So it makes sense from a cost perspective to renovate the kitchen before moving on to other rooms. When choosing which type of theme to explore, there are countless options to consider.
Apple Decorations For The Kitchen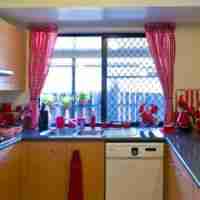 There are numerous décor themes to choose from, but we propose the apple kitchen theme because it is one of the most popular.
In this article, we want to share a few kitchen decor ideas for you and your family to consider.
Kitchen Curtains
When choosing the appropriate kitchen curtains, it's crucial to pick a style that complements your home's decor — but with these two different window patterns, you can get creative and bring a pop of color to your workspace with an unexpected design!
For example, you may hang red apple-print sheer panels on top of a patterned pair of curtains directly next to each other.
By using double-layered draperies to add color and pattern at the bottom, you'll be able to keep your workstation as clean and orderly as possible, with two alternative style options: one for kitchen prep and another for decoration.
Wall Painting
You can stop worrying if you're wondering what kind of art to hang in your kitchen. Including some painting or photographed display of an apple is a great way to add character and color to your home.
As you do this, it's important not to go with something that will be too distracting from the space in which it will hang.
Furniture
When designing the kitchen, you have many options, from rustic wood furniture or antiques in a country kitchen to glass or chrome with an apple design for the modern abode.
Another attractive option for both homes is dark wrought-iron pieces paired with bright red and green accessories.
Of course, there are other options too! For example, a quaint breakfast nook outfitted with a built-in bench seat and matching chair cover designed with apples on the fabric.
Kitchen Rugs
Nothing beats bringing comfort and style to a room. Adding a rug to your kitchen adds character and texture while making it more pleasant to the eye.
You could even choose an apple-themed rug or a picture of lovely leaves to improve the decor or create a preferred look that you can utilize here.
However, keep in mind that when working with rugs, whether they're to fill floorspace to prevent accidents or if they play an important role in this space.
You'll want to make sure that proper maintenance procedures are followed regularly, such as cleaning and vacuuming, because this will ensure that your rug stays in good shape and doesn't wear out.
FAQs
Are apples fall decor?
Put down your carving knives and start decorating a wreath out of apples! It might seem odd, but it's easier than you think.
Go for red apples if you'd like to create the traditional festive look, or pick yellow fruits if you're aiming for something more autumnal.
What is the purpose of the kitchen?
The cooking area is an essential part of any kitchen or restaurant. You need to have all the very important utilities as well as cabinets and equipment, which will make sure you can cook your meals or provide services for customers efficiently.
The design and construction of the room is a huge market all around the world because what your business needs depends on how big it is as well as its location and number of customers, which could become more demanding every day.
Conclusion
Apple decorations for the kitchen. If you're looking to renovate your kitchen and want to incorporate some apple kitchen decor ideas into the design, here are a few suggestions that will work well in any format.
Apple products are all practical, but they also serve as decorations simultaneously. Remember that many of these suggestions have dual purposes, so whether you're shopping for a piece of decor or something else, be sure to consider what's most important!
Related Guides