How to remove tile countertops. Installing a tile kitchen countertop is a terrific method to increase the value of your house, especially when you consider the upfront costs of buying a new cabinet or granite versus using what you currently have.
One disadvantage of using tile as a kitchen countertop is that the grout between each tile can be loose. As a result, when that happens, as it will, you'll be left with loose tiles and no solid surface in your kitchen.
That's why we emphasize the necessity of being able to remove tiles and replace them with new ones.
How To Remove Tile Countertops
We will discuss the easy tips that will help you dismantle a tile kitchen countertop.
Step 1. Examine the Old Countertop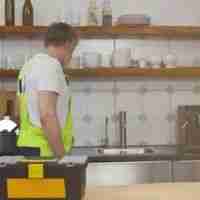 It's crucial to examine your previous countertop to discover how the tiles are installed and how they connect to the walls of your kitchen.
Examine how the countertop is attached to the cabinets as well. Determine whether wood or metal was used in the process and whether it can resist the wear and tear of daily use.
Step 2. Use tarps or Newspaper
Removing tile countertops could result in some harmful particles entering your home. To ensure your family's health, have a tarp or newspapers down to soak up any impacting bits and pieces.
Step 3: Deal with the Grout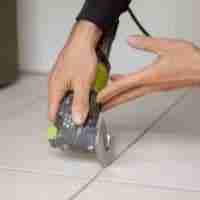 Start by chiseling the grout out of the gaps between the tiles, excluding the edges. Then start scratching away at grout lines in the exact center of each tile with a small utility knife or a chisel.
Removing a few loose tiles using your hands or pliers is easier once you've got a few open. However, a few resistant tiles always refuse to come off without shattering or causing a visual disaster.
However, do your best not to operate too close to walls to keep wall scratches and dents to a minimum.
Step 4: Dismantle Plywood or Wonderboard
Most countertops have plywood beneath the grout. Some countertops don't, though, so it may be difficult to tell whether there is anything in between.
A good way to test that is using a small pry bar. ​ This will most likely give you an idea of how easy it will be to remove the layer without damaging the tiles or countertop.
Step 5: Clear the Area
After the tiles and additional adornments have been cleaned, wipe down the surface with a towel or rag. Some pieces of grout may stick in between crevices, so don't forget to hit those hard-to-reach places with a vacuum!
FAQs
How difficult is it to take out a tile countertop?
Removing a ceramic tile countertop can be a nasty process, especially if the adhesive used to place it has become brittle or slippery over time.
Before removing the tiles, take a close look at how they're joined to the countertop, as well as any cabinets and the wall behind them, to see what needs to be cut or chipped out before you can begin the demolition process.
How do you replace tile countertops without having to replace them entirely?
If your kitchen counters are outdated, you may consider pulling them out and replacing them with new ones. However, another approach to making a countertop look sleek and modern is to utilize a concrete self-leveler to assist you in applying this coating over the existing surface!
Conclusion
How to remove tile countertops. Removing a kitchen countertop is a time-consuming task that necessitates at the very least patience and, in most cases, the assistance of a professional.
When it comes to materials and tools, removing the old countertop is simple: you'll need super glue, sandpaper, masking tape, a heavy-duty scraper, and tarps to protect any flooring below.
However, you must be aware of your surroundings, particularly if your property has gas lines or plumbing, in which case you should consider hiring an expert.
Kitchen countertops should not be removed without first consulting a professional, as inappropriate handling of these materials could result in physical injury or damage to household appliances.
Related Guides