How to use magic bullet. The magic bullet is a blender that can easily fit right into your cupboard or cabinets, so it doesn't take up unnecessary counter space.
It comes with an easy-to-use 3-cup work bowl and patented reversible blade, so you have more than enough capacity to blend fresh drinks, dips, and smoothies wherever you are.
Magic bullet combines with ease and conveniently makes all kinds of things convenient such as shakes, smoothies, milkshakes, etc., within minutes.
With a magic bullet blender, you will look forward to your daily breakfast; not only will you be preparing delicious eggs on toast.
But you also can make a fantastic fruit smoothie for family members along with green juice for drinking, which will provide them ample supply of nutrients in the morning.
How To Use Magic Bullet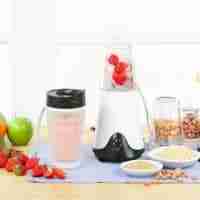 We will discuss here the steps of using the magic bullet.
Step 1: Put the Accessories Together
To use the Magic Bullet to blend protein shakes or make salsa, you'll need to attach the small black base with a standard-sized blending cup that comes with the unit, and then choose what type of blade you want to use – the flat short one for shakes and the long curved one for chopping and grinding.
Step 2: Prepare the Ingredients
Before using the tool, you must prepare the ingredients for your recipe. An important step is washing all of your fruits and vegetables because their flavors must shine through.
Another key step is chopping everything up into smaller pieces, so they fit nicely into the juicer or blender without causing the motor to overheat.
If you want to create an icy texture within your recipe, a good option is to crush large blocks of ice into smaller pieces or use small ice cubes instead of a mini ice cube tray.
Step 3: Fill the Blender Cup with the Ingredients
Now it's time to feed some preparation ingredients into the blending cups. To do this, you'll want to arrange the components in a specific layout.
For this method, you begin with putting the larger or coarser elements at the bottom and moving up by sizing down the ingredients until you reach your smallest flaked ingredient at the very top of your cupcake.
After that, ensure that your components remain within an inch or so of each other and between these two lines to maintain some room to rotate during processing freely.
Step 4: Start Blending
It's simple to use this blender. To begin with, confirm that your blender cup is securely seated in the base. After engaging the tabs by pressing down on the cup, you may start blending your stuff.
If you're creating a delicate recipe, like salsa, you'll need to adapt since it can get mushy if you agree to it for too long. Push hard against the cup while combining the ingredients, then swiftly let go.
Till you achieve the consistency you want, keep going through these procedures. By pressing down on the cup first, then turning the cup clockwise until you hear a click.
You can leave the motor running while preparing soft drinks or other recipes that take more than a minute or two. Never pour content into the cup that is more than halfway full!
Step 5: Shake Vigorously after Each Blend
It's not always clear that the components will fall into the blades as they blend when preparing thick blends, such as butter and acai bowls.
If this were the case, you would need to take the cup's base off and shake it vigorously until everything fell back into the blades.
Replace the bottom of the cup on top once some components have sufficiently blended. Then, combine everything in your blender until it has a uniform consistency. When you've accomplished this, put your device away and start serving.
FAQs
Does Magic Bullet need liquid?
When filling the Short Cup or Batch bowl with food or liquid ingredients, ensure the blade base is securely screwed onto the Short Cup or Batch bowl as this helps reduce the chance of accidental removal from the Power Base.
Never run a Magic Bullet without food or liquid contents in any of the Cups or Blender Attachment, as this could damage your product and lead to an accident where hot liquids might burn someone.
What is the difference between a Nutri Bullet and a Magic Bullet?
The Magic Bullet is used by two people: those who want to use it occasionally and those who use it frequently.
They discovered that the Magic Bullet is fantastic for staples like fruit smoothies, green smoothies, frozen foods, and raw ingredients that tend to block the blades, which may be annoying.
With its strong 600-watt motor, the Nutri Bullet can easily mash even tougher foods like apples or carrots.
Conclusion
We hope you enjoyed our article about Magic Bullet Blender. If you're thinking of buying a blender, we hope our article helped you decide to buy a Magic Bullet Blender. We also expect our article helped you see the many uses of a Magic Bullet Blender.
Related Guides