Level a GE refrigerator. A customized version of the cooling device in your home known as a refrigerator would look great on display in your home, but it also helps your refrigerator in its day-to-day operations if it is level.
If your fridge isn't balanced, don't worry because it's very easy to adjust. To do so, you'll need access to the four legs behind the fridge grille.
You will have to hand-turn them accordingly with a screwdriver until your fridge is level. We have more on this subject matter at our site if you should need more information or assistance!
Level A Ge Refrigerator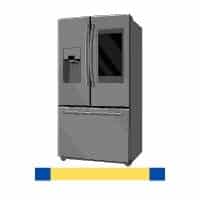 We will discuss the steps to level a Ge refrigerator here.
Step 1: Adjust the Front Roller Feet
Place your hand on the kitchen appliance and gently rock it to check if there is firm contact between the floor and the roller feet on the bottom of the fridge.
If they don't create a solid balance, you'll have to adjust or replace them so that they do keep the fridge stable.
Step 2: Loose the Grates
To adjust the roller feet, open your refrigerator and freezer doors completely. Find the grates and loosen them. Please do this by unscrewing both of the fasteners at each curvature on the grid itself.
Once you've fully unscrewed it, you'll be able to detach it. Now to adjust your fridge or freezer, you will need access to the area where a bracket can be moved up or down with a wrench.
The nut is below the narrow gap separating your fridge from your freezer compartment.
Step 3: Adjust the Bolt
To adjust the unit's doors, look beneath the fridge door for the bolt that holds it to the body. Turn it in either direction with a wrench or a screwdriver.
If you want the door to open upward, turn clockwise; if you want it to extend downward, turn anti-clockwise.
Close and open the door intermittently after adjusting the bolt as needed to determine when it is properly changed.
If, after adjusting, the fridge door still does not align with the freezer door, walk beneath the freezer door and repeat the previous process on these nuts and bolts. When the adjustment has been made, screw the grate back.
That's it! By following these simple steps, you'll be able to ensure that your GE refrigerator will run smoothly for years to come.
FAQs
How can you level a GE refrigerator from front to back?
Insert a flat blade screwdriver into the slots on the leveling legs and turn clockwise to lift your refrigerator. The front of the fridge will rise while the back will fall by the same amount.
It is critical to use a level to ensure a good area for products such as cleaners, recyclable containers, and personal items. This can become rather costly if not measured correctly.
Once everything is balanced and the two flattest surfaces are always facing each other, replace your grill or kick plate, so it appears nothing was ever modified in the first place.
What happens if a fridge isn't level?
This process can sometimes involve ensuring the refrigerator won't fall over. Unless you can lock and secure yours to a wall, this is a safety hazard for other people in your living area and could void your warranty.
Conclusion
Installing fridge leveling legs is seriously the easiest thing ever. Even if you've never done it, the steps are so simple that you can do it in minutes. With just a few tools, your fridge will be level easily. Just before I give up on leveling my fridge and call a repairer, I wanted to jot down this post with some tips for others in the same situation as me. If anyone out there's found this helpful or has any questions, let me know by commenting below!
Related Guides