What size air fryer do I need. The most important factor to consider when buying an air fryer is the size, cooking capacity, and types of foods you'll be cooking.
Depending on the family size and your cooking preferences, making sure your air fryer has room for a large but small enough volume so that it won't take up too much space in your kitchen will help you enjoy these benefits.
Air fryers are a great option for those looking to save time in the kitchen. The air fryer is portable, and can be used by anyone in the family.
Despite its compact size and compact heating element, it can still prepare delicious food that will make you mouth water.
Choosing the right size air fryer can be tricky. If you choose one too small, you'll constantly be refilling it. If you choose one that's too big, it will take up valuable counter space. This article will help you figure out how big of an air fryer you need.
What size air fryer do I need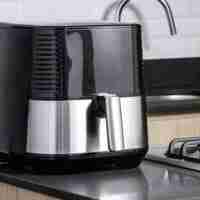 If you're in the market for an air fryer, you may wonder what size options are available. There are four main types of air fryers, excluding commercial models:
Small air fryers
Medium air fryers
Large air fryers
Extra large air fryers
1. Small air fryers
Small air fryers are the best way to cook small snacks with your air fryer. If you live alone or have a small family but still want a great option for fast-cooking food, then a 1.5-2.5 quarts model is the best choice for you.
A small air fryer is typically cheaper than a larger model, offers a budget way to access air-fried foods, and is easier to store.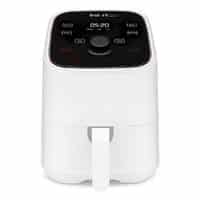 The Instant Vortex air fryer is perfect for quickly creating delicious food at your fingertips. You don't have to spend hours in the kitchen.
This mini air fryer is the ideal cooktop appliance for those with limited countertop space or who want something they can take while traveling.
2. Medium air fryers
Medium-sized air fryers are some of the best on the market because they offer a good balance of cooking capacity and affordability.
They're ideal for couples rather than large families but can also be used for parties and other gatherings with plenty of snacks.
If you're looking for an air fryer on a budget, you'll be happy to know that medium-sized air fryers are generally more affordable than their larger counterparts.
So if you're looking to save money, keep an eye out for a medium-sized model that will suit your needs.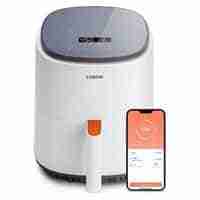 The COSORI Lite 4.0-Quart Smart Air Fryer is well-designed and compact, with a clean, modern look that makes the perfect addition to any counter.
It features a rotating rack with three temperature settings — low, medium, and high — so you can ensure even cooking results across all meals.
With a built-in digital display and smart control capabilities, you can monitor cooking progress on your smartphone or explore recipes at the touch of your thumb.
3. Large air fryers
If you're looking for an air fryer that can accommodate large families or regular large meals, you'll want to invest in a large air fryer.
This is perfect for those who want to be able to cook for their family or friends without having to give up too much space in their kitchen.
Large air fryers usually cost more than other models because of their size, but they are also generally more durable.
If you are looking for a large model but don't want to spend much money, consider investing in a large air fryer. Large air fryers are best suited for families or cooking many snacks, such as at parties.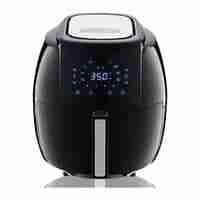 The GoWISE USA air fryer is a great addition to your kitchen. It allows you to cook tasty food without adding fat and calories.
It features eight built-in smart programs that let you enjoy your favorite fried snacks and food without the added calories.
For example, you can use it for cooking fries, shrimp, cake, chicken, steak, and fish on demand. This large-capacity model has an LED display showing the temperature range and cooking time and a timer for up to 30 minutes.
4. Extra-large air fryers
Extra-large air fryers are great if you have a large family or serious entertaining needs. If you plan on cooking several batches of food at once, then a large fryer may be right.
The main benefit of an extra large fryer is the extra space it provides for you to cook multiple recipes at once. This is great when various meals are being cooked.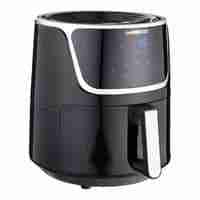 GoWISE USA 7-quart Digital Air Fryer is your one-stop solution to all your healthy meal problems. This unit can take up to 12 hours to dehydrate the food, and the food comes out crispy and delicious.
It has eight preset programs, with air fry, roast, broil, dehydrate and bake as the most predominant. It's powerful enough to cook for a full day in a single session!
Conclusion
If your family is large, you certainly need a larger air fryer, and if you are the only cook in the house, you will find that a single-quart one is enough. If you do not cook very often but do have some meals you have to cook, then a smaller size might suffice. The size of an air fryer will also determine how much you can use it. If space is limited or if this is your first fryer, perhaps getting one with fewer features will let you focus on cooking more meals and cease worrying about having too large an appliance cluttering up your kitchen countertop.
Related Guides